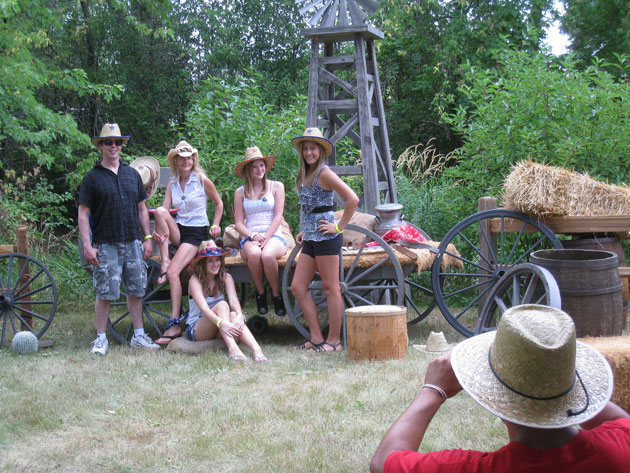 Western is one of the most popular and versatile themes. Lending itself to rustic weddings and cowboy picnics alike, there is a great variety in ways to carry out a western party atmosphere and activities. With a relaxed but fun vibe, these events welcome your unique style and creative ideas to come forth without a worry. Our experienced team will help you lasso them up and tie them together in a delicious custom menu.
If you'd rather kick back and soak up tested and trusted western picnic ideas, go right ahead. Your guests will love these fun ways to execute a western picnic theme.
Western Theme Picnic Essentials
Western Party Food Ideas
BBQ, BBQ and BBQ! You may have guessed—no western picnic is complete without grilling up tender meats and setting out mouthwatering comfort foods. On our 2018 picnic menu, you'll find no shortage of scrumptious BBQ foods. So let your guests step up to a western buffet with country dishes like:
Picnic BBQ wings: grilled chicken wings with Sweet Baby Ray's® Barbecue Sauce
BBQ ribs: tender baby back ribs
Backyard BBQ chicken: slow-grilled chicken quarters on the bone basted with Sweet Baby Ray's® Barbecue Sauce
BBQ mini meatballs: simmered in a molasses-based Sweet Baby Ray's® Barbecue Sauce
If you're having a hard time choosing which delicious BBQ foods to include on your custom picnic menu, don't worry. Our talented chefs created complete BBQ menus for just these types of events. With condiments, rolls and assorted cookies included in all these BBQ picnic menus, your guests will have everything they need to enjoy their western meal exactly the way they like it.
Texas BBQ: 18-hour smoked brisket, tequila lime chicken breast, smoked sausage, sweet potato salad, ranchero beans, chips and salsa and an assortment of BBQ sauces
Southern BBQ: Memphis-style pulled pork, barbecue chicken breasts, black angus 1/3 lb. hamburgers, jumbo angus beef hot dogs, veggie burgers, heritage coleslaw, American potato salad, sliced watermelon and bagged chips
A Taste of BBQ Country: 18-hour smoked brisket, Memphis-style pulled pork, smoked chicken quarters, barbecue baby back ribs, molasses baked beans, American potato salad and Piedmont-style coleslaw
Flavorful BBQ food makes guests thirsty, so be sure to set up a watering hole with lemonade or beer and of course plenty of fresh water.
Western Theme Decorating Ideas
Your hoedown décor can take on any form you imagine. Rustic wood is an open canvas for your creative cowboy decoration ideas. And it is the springboard for great DIY projects like custom signage. Just a few decorations like lassos or spurs spray-painted in your picnic color scheme are all you need to put the finishing touches on a picnic area set up with checkered tablecloths and cactus plants or sunflower centerpieces.
Cowboy Up Western Picnic Activities
Start playing honkytonk music and set up western stations for guests of all ages to have fun at. Horseshoes are a standard feature at western theme picnics, but we also love the idea of a horseshoe or bandana decorating station. These make great party favors. And so does a happy trails snack mix—another item guests can have fun customizing. Just fill farm baskets with premium nuts, chocolates and candies and give guests a bag to fill up.
Looking for some high-impact western entertainment? Consider hiring a square dance instructor or renting a mechanical bull!
Fun Picnic Venues in Chicago
If you want to make checking off your picnic planning checklist quick and easy, just book your date at Donley's Wild West Town's picnic grove. When you reserve this premier venue, your guests will also be granted access to its museum and theme park. They will be able to take a ride on the lazy canoes, runaway mine car rollercoaster, carousel, train or hand carts. And there are so many other activities for all ages! A Wild West stunt show, pony rides and roping are available, and the museum is filled with cowboy memorabilia.
Already decked out in western décor but ready to be transformed by your creative picnic decorations and menu, Wild West Town and its skilled team make planning your western event effortless.
Personalized Country Music Playlist
Whether you choose country pop, hoedown music, honkey tonk or any other genre of country music, your selection of country music can go a long way in cultivating your desired picnic atmosphere and showcasing your style. To add an extra bit of fun, set aside a time for karaoke. You can record the event and make the playlist available to guests after your picnic.
If you would like our trusted Chicago catering team to bring the highest-quality food and service to your western-themed picnic, contact us online or give us a call at 847.593.2000.
More articles you might enjoy: