One of the most exciting parts of planning a picnic in Chicagoland is choosing where to host your picnic. You can choose from the plethora of fantastic picnic venues in the Chicago area or host at your place. Either way, the great outdoors make a fantastic venue! You will naturally look for a location that features plenty of green space and room for picnic games and activities. But there are countless other considerations you don't want to overlook, like shelter from the elements and venue capacity.
Fortunately, our team has decades of experience helping companies and individuals throughout the Chicago suburbs choose a picnic venue and transform it to match their picnic theme. Here are some of the most popular and memorable Chicagoland picnic venues.
Chicago Picnic Venues
UIC Picnic Grove | Chicago, IL
The University of Illinois at Chicago Picnic Grove is the perfect place for sports-themed picnics. In coordination with Picnics in Chicago, UIC Picnic Grove lets you invite up to 10,000 guests to play ball. While we craft a custom menu, Picnics in Chicago creates individualized programs to best suit your picnic themes, goals and guest list.
The two picnic spaces feature spectacular views of the Chicago skyline and can accommodate almost all sports games and picnic ideas within their softball and soccer fields, volleyball courts, grassy areas and bike path. There are also plenty of restroom facilities and free parking, both critical for a successful picnic!
Windy City Fieldhouse | Chicago, IL
WCF Events is the Midwest's largest team-building and entertainment company. It provides an exciting environment that combines great food, music and an open bar with a wide variety of fun, interactive activities like trivia, a miniature golf course, golf simulators, pool and foosball tables, massage therapists, caricature artists and high-end arcade games.
WCF's on-site team can help with the management and execution of everything from site selection to itinerary and transportation to ensure your picnic is a success and everyone is having a fun time.
Ignite Glass Studios | Chicago, IL
Ignite Glass Studios is a versatile event space for a casual or more elaborate company picnic. Come and witness molten glass transform into art in the Urban Garden or mingle over picnic eats and brews on the Rooftop Deck, which offers dramatic views of the Chicago skyline.
Firehouse Chicago | Chicago, IL
Located on Chicago's north side in the beautiful Edgewater neighborhood, this intimate venue is perfect for your company picnic. The vintage, rustic garden creates a lovely, memorable setting for a day full of sun and camaraderie.
Located in the Brewery District of West Town, Chicago, Bridge 410 is the perfect blend of industrial, modern and greenspace. With 4,000 sq. feet of private outdoor space, their backyard can be your private playground in the middle of the city.
Chicago North Suburb Picnic Venues
Bluestem Farm & Events | Hebron, IL
The 1900s De Graslanden barn is everything you'd want from a barn venue—vintage with modern-day amenities you can expect from an enjoyable picnic. The outdoor space features a gorgeous outdoor patio and three acres of lawn for your guests to spread out across overlooking 140 acres of peaceful prairie. Other appealing amenities include indoor restrooms and an air-conditioned/heated interior.
Providence Vineyard | Hebron, IL
Expected to Open in August 2020
Providence Vineyard features an all white, vintage glam barn that is nestled within 30 acres of gently rolling hills and grapevines in Hebron, IL. The barn features grand open-air doors that lead to a large covered patio that provides beautiful views to the vineyard and your private outdoor picnic space.
Byron Colby Barn | Grayslake, IL
The Byron Colby Barn is a restored historic barn that offers a rich setting for elegant picnics. The do-it-yourself venue offers you the flexibility to create the ultimate picnic. Country elegance meets modern convenience; this historic treasure is a nationally recognized Prairie Crossing conservation community in Grayslake, Illinois.
Kohl Children's Museum | Glenview, IL
This Chicago picnic venue with unique amenities is ready to host your biggest family picnic ideas. Its central location in Glenview offers activities for all ages, and that is just the start of a long list of what makes the Kohl Children's Museum a top family picnic place in Chicago:
2+ acres of outdoor enclosed park

Indoor access: when you rent Habitat Park at the Kohl's Children's Museum, you also gain access to the indoor space. This is a huge value and expands your options for picnic activities regardless of the weather

17 interactive exhibits: no guest is too young to check out the great displays that make the Kohl Children's Museum a favorite place for family picnics in Chicago

Stage and sound system

200 free parking spots
Discovery Day Camp | Lincolnshire, IL
While primarily a day camp for little ones, Discovery Day Camp spans over 10 lush acres in Lincolnshire, providing the perfect backdrop for a picnic with more than adequate facilities and some extra recreation options. The facility is available for rent all summer long for groups of 75 to 300, which it can easily accommodate in its 4,000-square-foot pavilion housing over 35 picnic tables. No picnic blankets required!
Discovery Day Camp will have your guests moving all day long with add-ons including basketball and volleyball courts, 14,000 square feet of athletic fields, a climbing wall, a heated swimming pool with locker rooms and more. If you have an active group that loves a little friendly competition, this spot is perfection.
Tir Na Nog means "Land of the Young" in Gaelic, and you can achieve a healthy lifestyle or just relax in a calm and serene setting. The private country estate situated on a lakeside bluff offers a picnic location like no other. It features a heated tent that has the capacity to seat up to 160 people, making for a versatile setting for any corporate event.
The Shores of Turtle Creek | Spring Grove, IL
This stunning lodge rests among 32 acres of meticulously maintained natural grounds that can accommodate up to 5,000 picnic guests in the Chicago north suburbs. When guests visit this venue, the spacious porch draws them to the 10,000-square-foot, two-story lodge.
What really makes guests fall in love with the Shores of Turtle Creek are the lodge's huge windows and skylights that bring the outdoors inside, creating a seamless picnic experience. From the double doors that welcome guests to the French doors that invite them out to the portico overlooking a serene pond, the Shores of Turtle Creek brings modern comforts and a wonderful natural flow to any picnic.
Decoma Day Camp | Northbrook, IL
The Decoma Day Camp is "much more than just a day camp" according to their slogan, and we couldn't agree more. A beloved family-run venue that has been around since 1949, they have extensive experience hosting all sorts of large-scale group events, especially picnics!
The camp's facilities are expansive and include highlights like a nine-hole mini golf course. Let's be real—any picnic with mini golf included is sure to be a guest favorite! That's not all. Decoma Day Camp also has a playground, fields and courts galore, as well as a gaga ball pit for the children.
Beyond that, Decoma Day Camp offers sprawling outdoor space with plenty of parking and indoor venue space that you can use in case the rain decides to come down on your picnic. Whether you're looking to host an intimate family reunion or a corporate picnic for hundreds of employees and their families, the Decoma Day Camp can do it all.
Chicago Northwest Suburb Picnic Venues
Citizens Park | Barrington, IL
Citizens Park, a 45-acre park, is an award-winning venue that has continued to be a very popular setting for people to rent the facilities, relax by the waterfall, walk the trails and enjoy passive recreation. Give your teammates the backdrop they deserve—a treehouse, walking paths, picnic shelters, bathroom facilities and more.
Goebbert's Pumpkin Patch & Apple Orchard | Pingree Grove, IL
Goebbert's Pumpkin Patch and Apple Orchard has been open at the Pingree Grove location since 1985. They are well known for their annual Fall Festival and pumpkin patch, and in 2017 they expanded to include an apple orchard for apple picking as well. They treat their employees like family and their guests as friends.
Whether your picnic takes place in the barn, greenhouse or under one of the farm's tents, there is a spot for your company's corporate picnic, company family outing or customer or employee appreciation event. The flexibility of such an expansive property as Goebbert's is the variety of different ideas and options that can make your event cost-effective and special for everyone.
Friendship Park Conservatory | Des Plaines, IL
If you're envisioning a picnic that is surrounded by beautiful floral displays, look no further than the Friendship Park Conservatory, which is flanked by over 50 colorful flowerbeds filled with florals and greenery raised in the conservatory's greenhouse. Relax, eat and celebrate your team's hard work in this unique setting.
Hoosier Grove Barn | Streamwood, IL
This beautiful, historic venue, which was once an actual working dairy farm, features a fully renovated interior and all the modern advances that you need for a company picnic. Enjoy a meal and good company in the warmth of the spacious, well-lit barn or outside among the lush garden, ornamental fire pits and stone water fountain. The location also provides an outdoor tent so you and your guests can dine al fresco. With so many customizable options, there is something for every size picnic.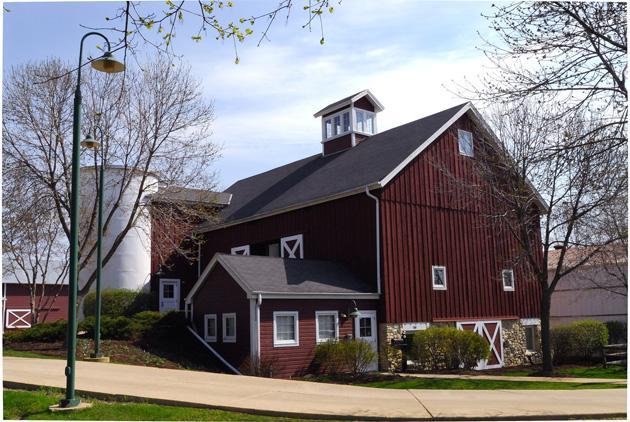 Lincoln Farmstead | Huntly, IL
These barns and grounds were renovated as recently as 2019, making a backdrop that is meant to impress and delight a gathering of your peers. The main dairy barn is full of authentic charm and can seat up to 200 guests. Picnic goers will enjoy the scenic countryside and barn backdrops. For an exceedingly relaxing time, enjoy front row seats to a sunset from the patios and deck.
Serosun Farms is a sustainable community that blends peaceful, pastoral living with modern convenience. Your guests will enjoy acres of open space with restored prairies and woodlands while staying connected through the latest technology and being pampered by a wide range of amenities.

Chicago West Suburb Picnic Venues
Barbara Belding Lodge at Brewster Creek | St. Charles, IL
The Barbara Belding Lodge, nestled at Brewster Creek Forest Preserve in St. Charles, is an incredible venue for all different styles and sizes of picnics. Inside this rustic facility, there is seating for 115 on the main level, as well as a fireplace, catering kitchen and a beautiful view of the forest preserve. Outside is a 27-acre preserve for the exclusive use of your team and corporate guests.
Central Park West | Oak Brook, IL
The Oak Brook Park District, created in 1962, owns and maintains six parks in Oak Brook, totaling 173 acres. Athletic fields, playgrounds and walking paths are available in several locations for the enjoyment of the community.
Central Park West is one of many spacious settings at the Oak Brook Park District that is known for providing an expansive, versatile stage for a company picnic. The expansive main hall, with a vaulted, open-beam ceiling, double-sided brick fireplace and 7-foot windows, suits any gathering that needs a special, private setting for an outdoor gathering. Keep the sliding doors open for a fully enclosed, air-conditioned option or open everything up for a breath of fresh air.
If you're looking for a way to share a presentation, you can make use of the projection screen and wireless microphone. Chairs and conference tables, rounds or rectangular tables are provided.
Cheney Mansion is equipped with the latest technology and offers a variety of indoor meeting spaces that overlook the landscaped grounds. Visitors can take a relaxing break from the day's work by walking the 2.2-acre grounds that surround the mansion. This outdoor expanse features a greenhouse and patio, perfect for an outdoor picnic, and a woodland waterfall garden to relax and refresh.
Creek Bend Nature Center | St. Charles, IL
Creek Bend Nature Center is available for your special picnic with coworkers, partners, family and friends. This charming venue is located within the beautiful LeRoy Oakes Forest Preserve on the banks of Ferson Creek in St. Charles. Guests have full access to the facility and grounds and have a lot of freedom to add those special touches to make the picnic uniquely theirs.
Lake Ellyn Boathouse | Glen Ellyn, IL
The Boathouse can serve as the ideal locale for your picnic. The shore of the picturesque lake is resplendent with natural flora that accentuates the current season, and the large deck off the east side of the Boathouse provides spectacular views of the lake and resident wildlife.
This versatile space can comfortably accommodate seating for up to 120 guests or 150 guests without tables. The adjoining terrace and deck are also available to rent for larger corporate gatherings.
Oak Brook Bath and Tennis Club | Oak Brook, IL
When it comes to planning amazing private and social events, the team at Oak Brook Bath & Tennis Club wants you to have the freedom to design your picnic the way you imagine it to be. This blank canvas venue offers a peaceful woodland setting that will leave an impression on you and your guests.
When you're planning an outdoor celebration, staff and facilities provide all the amenities and accommodations you could ever request. The expansive 20-acre outdoor area features well-manicured grass and shade trees, making for a stunningly beautiful outdoor aesthetic and picturesque backdrop. Between the patio and grounds, there is plenty of flexible space for outdoor mingling, dining and games.
Thatcher Woods Pavilion | River Forest, IL
This incredible outdoors location features everything you need for a company picnic, all anchored by a stone masonry traditional gas-lit fireplace that adds richness to the restoration of the entire facility. Two meeting rooms can be used either as a single space or two separate functions, which can accommodate approximately 120 or 80/40 guests accordingly. A convenient prep-type kitchen is on-site.
Vasa Park has a history of enjoyment, rest and solitude. In the early 1950s, a group of people interested in sharing Swedish culture formed a group to pursue the purchase of property as a place to gather and enjoy the great outdoors as they remembered it in Sweden. It has seen many community gatherings since. It spans a tranquil 25-acre property situated along the beautiful Fox River, featuring towering mature oak trees and wide open space—perfect for a large picnic.

Chicago Area Forest Preserve Picnic Venues
Cook County Forest Preserve District
Nearly 69,000 acres of open space in Cook County where millions of visitors each year bike, hike, picnic, fish, canoe or simply relax and enjoy nature—the Forest Preserves' nearly 300 picnic groves are popular locations for outdoor events of all sizes. Click here to check picnic grove availability online.
Lake County Forest Preserve District
Unique to Illinois, Forest Preserve Districts are designed to protect large natural areas and provide passive recreation. The system encompasses a variety of vibrant natural areas and have been recognized as a national leader in conservation, while offering fun ways for you to enjoy activities, relax and picnic in forest preserves throughout Lake County.
DuPage forest preserves provide scenic backdrops for company get-togethers. Picnic shelters and areas can accommodate groups up to 300 people. The preserves offer hundreds of picnic tables and inviting places to spread a blanket. Ground fires are not allowed, but you can bring a grill. Most preserves have hot-coal disposal bins.
For information about picnic shelters, areas, amenities and fees, visit the preserve's picnicking page.
Since 1925, the Forest Preserve District has worked to preserve and restore Kane County's natural areas, improve wildlife habitat and enhance the quality of life for all Kane County residents. Embark on a picnic adventure with coworkers, friends and family, learn about nature, birdwatch, fish, golf, ride, volunteer or simply experience the wonder of our more than 20,000 acres of woodlands, wetlands and prairies.
To learn more about picnic rental facilities, click here.
We're here to help you make the most of your company gathering and come up with a plan that matches the purpose of your picnic. Give us a call at 847 593-2000 to learn more or start planning your picnic today!
More Articles You Might Like: