A murder mystery party is great way to provide a unique experience for your guests, regardless of the occasion. However, there are more than a few things to consider when planning one. Finding the perfect historic location, coming up with a fun theme and crafting the perfect menu are all important factors. And what's a murder mystery party without a little murder?
Our team recently helped to create a roaringly fun murder mystery party at the Wilder Mansion in Elmhurst. Guests dressed in elegant flapper garb and gangster-inspired attire to match the classic 1920s theme. Here's how we helped execute:
1) Locate a spooky, historic location
Wilder Mansion served as the perfect location for a murder mystery party. Built in the 19th century but with modern amenities designed for comfort and refinement, the mansion provides an elevated experience for weddings, corporate events and various social gatherings.

2) Envision a golden theme
Wilder Mansion's elegant ballroom was dressed to match the glamorous style the Jazz Age was known for. White candles lined the fireplace, and tables were adorned with black linens and gold runners topped with wine bottle centerpieces containing feathers and martini glasses dripping with pearls. Many of these graceful touches were added to the buffet and food tables as well. Every guest's place setting featured gold-rimmed china and vintage gold utensils.
3) Choose delightful bites made for mingling
We worked with our corporate client to create a menu with classic, familiar food choices with a twist and displayed in a modern, upscale way. Guests enjoyed hors d'oeuvres like bruschetta, deviled egg bites and an artisanal cheese display featuring white cheddar, gruyere, purple haze, herbed goat and Maytag bleu cheeses, chevre and sharp cheddar with olive mix, sliced French baguettes, raisin walnut bread and crackers.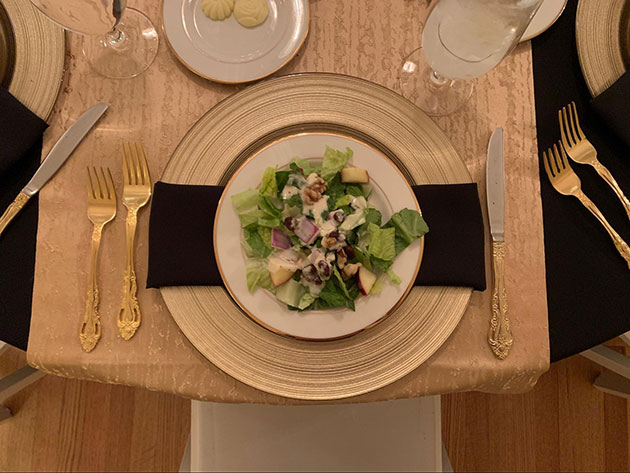 The first entrée featured a crisp Waldorf Chop Salad with romaine, red apple, celery, red onions, raisins and walnuts with honey lemon dressing. This was followed by a buffet of chef-carved sirloin, stuffed chicken breast with roasted red pepper, spinach, artichoke hearts and caramelized onions in lemon cream sauce, and pasta.
For dessert, guests enjoyed delectable chocolate dipped strawberries covered in gold sprinkles alongside mini tarts, cookies and eclairs.
Our guests thoroughly enjoyed the event, and our team was delighted to be a part of such a unique experience. We're grateful to work with clients that trust our team to bring their vision to life. If you would like help crafting your corporate gathering, we would be happy to help. Give us a call at 847.593.2000 or connect with us online!