Why did we celebrate our employees every day in March?
Because this past March marked 10 years since we revolutionized our culture—a culture decided on and embraced by our employees. It empowers all team members to take on more responsibility within their individual circles of discipline.
The 10th anniversary of a new culture that elevates performance and employee morale is reason enough to recognize our workers. After all, they are the ones living by our core values that enable us to experience the joy of planning special occasions all the time.
Get an inside look into how Tasty Catering applied its Chicago event planning process to its own employee appreciation month events. You can apply the same ideas to your next big event.
How to Plan a Successful Employee Appreciation Event in Chicago
There are so many exciting steps to planning a corporate event in Chicago. Before we even think about designing a menu or reserving a venue, we make sure the client understands the process and big picture of planning an event. This is the same multifaceted process we use to plan our own events, like our employee appreciation celebration.
Step 1: Define Event Goals
When you look back on your event, what will have made it a success? For our March employee appreciation event, we wanted to recognize our committed employees to boost morale and performance. And there is plenty of data to support this approach. According to a McKinsey Quarterly survey, praise and recommendation is the number one performance motivator for 67% of employees. This is true even when compared to non-cash and financial incentives.
A secondary goal of our employee appreciation event was to challenge our planning team. A month-long celebration presents new obstacles and opportunities—just what our Chicago catering company loves.
Step 2: Choose a Concurrent Theme
Your theme will set the tone of your event and help shape how it impacts guests, so make sure it is in line with your goals. With a history of extraordinary employees delivering exceptional food service since 1989, we decided to focus on our company timeline and culture. Sharing the company's roots with all our people set a solid foundation for recognizing the current efforts that make us so proud of each and every one of our staff members.
Our theme was chosen to ensure that new and long-time employees felt equally valued and rewarded. Those who were a part of the company's culture change in 2006 and those just starting with us gained an appreciation for what their commitment to our values delivers: amazing events, a 98% employee engagement rate and 12 spinoff companies. It is their efforts that landed us on the Forbes Best Small Companies in America list—something for which they can each feel responsible.
Step 3: Select an Event Date and Location
With a broad picture in mind for your event, you can get down to the finer details. We chose to celebrate daily throughout March, adding additional fun and education to the lunches that we already enjoy together.
Although there is no shortage of amazing Chicago venues for employee appreciation celebrations, we wanted to keep ours in-house. It was a way for us to save money and provided a convenient place for an entire month of celebration.
Step 4: Plan Engaging Activities
How will you recognize, motivate and reward your employees? We chose a fun and educational activity for each day of the week, and we carried those events through the whole month. While creating the schedule of employee appreciation activities, we also had to work internally to figure out the full timeline of Tasty Catering and all the milestones. Good thing unique challenges are something our team loves!
Employee Appreciation Week Events
Monday: Storytelling
Each week focused on a different time period. One of the Tasty Catering team members with experience from those years shared a five-minute story. As the stories pieced together, the transition from Tasty Pup to present day was chronicled, and everyone was inspired.
Tuesday: Facts from the Past 10 Years
Everyone (even the CEO!) seemed to learn something new and exciting each Tuesday when we surprised them with a metric, number or fun fact. As a company with so much transparency, it was hard to find so many new things to share, but we did it. This is what we came up with:

Wednesday: Circle of Service
Everyone gathered around to watch powerful videos honoring employees who have been with the company for 20+ years, 10–15 years, 5–9 years, 1–4 years and less than a year. With videos and photos of every employee, each felt like a superstar.  
Thursday: Throwback Photos
Nothing like a blast from the past to stir up some good memories (and laughs). Photos of the original building and owners were too good to keep within the company; we had to share them with the public as well. We posted them on Facebook, Twitter and Instagram with #ThrowbackThursday.
Friday: Core Values in Action
We invited employees to share stories about how Tasty's core values have guided their decisions. A picture emerged of what it means to commit to a vision.
Because we kept most of the month's celebrations a surprise, this event also sparked curiosity and excitement in our Tasty Catering team. We wanted to see the impact of a surprise employee appreciation party in a month-long format, and it did not disappoint.
We also made the first and last day extra special! To kick off our employee appreciation event, we had our original Tasty Dawg mascot make an appearance at our "It all started with a hot dog" day. Employees snagged so many photos to share with family and friends. And to close out the month, we treated everyone to cake! And that brings us to the food—almost an event by itself!
Step 5: Design a Complementary Menu
The style of your food and beverage service can have a big impact on guests' desire to engage. A top Chicago catering company will make sure the food contributes to the appropriate atmosphere for your activities.
Tasty Catering can design a custom menu to match any type of event. Here are some suggestions:
One-Day Event: Lunch or dinner
Several-Day Event: Something special each day—make it a surprise!
All-Day Event: All-day package with a variety of offerings so everyone finds something they love
Evening Events: Cocktails and appetizers that keep the energy up and set the right atmosphere
Step 6: Make a Follow-Up Plan of Action
Whether it is a simple thank-you gift, closing remark or post on social media, plan a way for guests to reflect on your corporate event. Our employee appreciation event also included our sister company staff from TFProcessors, nuphoriq and That's Caring, so we had a wide range of people to reach. The majority of the employees in these sister companies started at Tasty Catering and are still involved to some extent with Tasty, so we wanted to make sure they never feel forgotten.
After each lunch, our motivated employees continued to feel great pride in their company. And if anyone was not able to make it to one of our lunches, they could find all the info in an email, private Facebook group, posted on corkboards and screens in the office as well as in our weekly newsletter. The multiple touch points ensured that no employee was left out.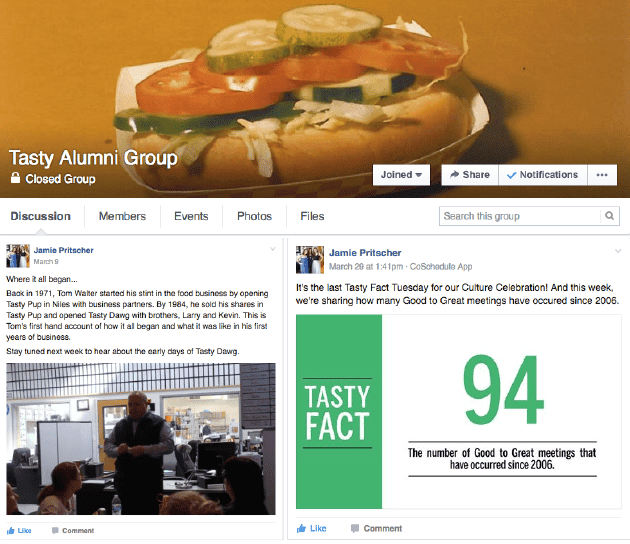 Once someone joins the Tasty Catering team, they are forever a part of our culture. That is one reason we wanted to share this celebration with alumni too. We posted everything in the Tasty alumni group on Facebook for them to enjoy.
Ready to plan a corporate event that pays big dividends? Contact us online or give us a call at (847) 593-2000.
More Articles You Might Like: