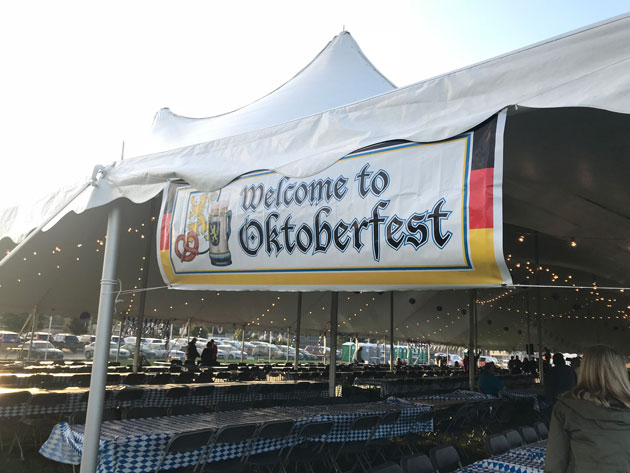 Drawing upon tradition, expertise and exciting new trends, Oktoberfest catering is a fun niche that perfectly suits our talented team. Backed by decades of experience and closely connected to the most trusted industry experts, each fall we elevate Oktoberfest picnics in Chicago. Recently, in search of inspiration for standout Oktoberfest party ideas, we contacted our renowned chef consultant: John Reed.
Being a certified cicerone and industry leader, John's time is precious. But he so graciously took time to reveal the makings of the best Oktoberfest menus, and we are thrilled to share them with you!
The Evolution of Oktoberfest-Themed Parties
Rich in History and Excitement
Many top Chicago events have delicious beers, mouthwatering German food and lively atmospheres. But only Oktoberfest celebrations have a history and significance that date back to Munich in 1810. At that time, the holiday began as a way for the masses to celebrate and toast to a royal German wedding. A malty amber lager called Märzen—named after the beer brewed in the last month of the traditional German brewing calendar—was the one to do the job.
Tip: Some of your guests may not know all the details of Oktoberfest parties. Consider sharing information like the fact that the royal marriage it celebrates was that of Prince Leopold. Informational festive boards or signs make great DIY picnic décor projects, while we are happy to print fun facts on your custom menu.
Modern Takes on Traditional Oktoberfest Beers
Original Oktoberfest beers were cold aged and slow fermented over the summer months in the process now referred to as "lagering." And German laws stated that only beers brewed in Munich could be called Oktoberfest, so beers brewed outside the city limits were referred to as Märzen or even Festbier. Now things are a bit different, and you have a vast array of versions of the Oktoberfest beers to choose among.
Modern versions as well as American craft brewers' interpretation of the original Oktoberfest beers have changed to become lighter and softer in taste. That's not to say that the traditional malty and nutty Märzen doesn't exist, but the trend is towards a crisp, cracker-like taste, golden color and sweeter flavor profile.
Great examples of available styles include:
Märzen: Ayinger Oktoberfest Fest-Märzen and Hacker-Pschorr Oktoberfest-Märzen
Oktoberfest: Paulaner Oktoberfest, Samuel Adams Oktoberfest, Goose Island Oktoberfest and Great Lakes Brewing Oktoberfest
Vienna Lager: Samuel Adams Lager, Modelo Negro, Dos Equis Amber and Capital City Brewing Amber Lager
Rauchbier: Aecht Schlenkeria Rauchbier Märzen
Tip: The crowds in Munich did not have the luxury of choosing among so many different drinks, but your guests will when you set up an expansive bar. Treat them to this unique opportunity to taste the wonderful variety of new renditions on a favorite type of beer.
Perfect Oktoberfest Food and Drink Pairings
Our culinary team loves to share their extensive knowledge about our menu items and is happy to offer beverage suggestions. This makes it easy to enlighten your guests about incredible Oktoberfest food and drink pairings. You may even like to set up a display of small bites and drinks for them to sample—an invitation to stray from their go-to choices that have served them well at Oktoberfest parties.
Two of John's favorite Oktoberfest food and drink pairings are:
A stein of Märzen with Bavarian pretzels and grilled brats with sauerkraut: The toasted nutty notes pair well with the saltiness and roasted characteristics of these popular Oktoberfest appetizers.
Weiner schnitzels and German potato salad with a lighter-style Oktoberfest beer: A crisp, clean beer will help cut through the crispiness of the crust and offset the richness of the potato salad.
Tip: Don't be afraid to elevate to your highly anticipated Oktoberfest picnic menu by adding in signature drinks and unique dishes that surprise guests while honoring the spirit of Oktoberfest.
If you would like our award-winning Chicago catering team to bring the highest-quality food and service to your Oktoberfest picnic, contact our creative professionals online or give us a call at 847.593.2000.
More articles you might enjoy: