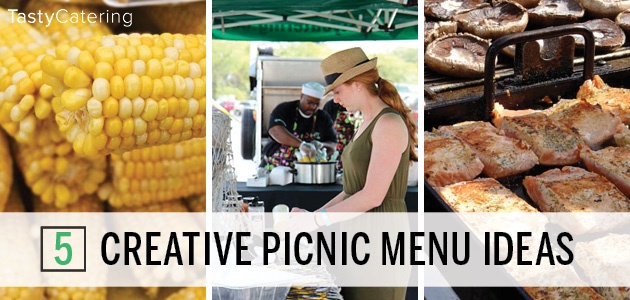 Traditional family and company picnics tend to have the same food and drink options from year to year. We would like to help bring some novelty to your event by diversifying your company picnic menu.
5 Unique Company Picnic Menus
1. Oktoberfest Pig Roast. Instead of going straight to the beer selections, guests may get caught up in the aroma the whole roasting pig causing their mouths to water with the smell of delectable slices of pork. Other tempting main menu items include:
1/3 lb. black angus burgers
Jumbo angus hot dogs
Bratwurst
We also serve veggie burgers for those vegetarians still planning to enjoy an Oktoberfest feast. German potato salad will complement the entrees, and you may choose to add pretzel rolls as a perfect complement to your meals.
Of course it would not be an Oktoberfest Pig Roast without a German lager or a Sam Adams brew.
2. Baja Picnic. Let your Chicago picnic catering team plan your Baja-themed picnic. Picture sombreros as table toppers and piñatas hanging as décor. Children at the event can use the piñatas as a game the adults can watch for entertainment. You may also decorate a salsa station presenting our onion cilantro relish and chipotle salsa, among other condiments.
Guests will have fun mixing up the following Baja picnic menu items:
Street tacos
Citrus barbeque-glazed chicken breast
Corn on the cob served street-style with mayonnaise, chili powder and lime
Ranchero beans
Mexicali rice
Summer taco salad
Tortillas
Large gourmet cookies
Pair your entrees items with Modelo Especial or a frozen Strawberry Daiquiri, Margarita or Piña Colada.
3. The "Back of The Yards." Chicago's meatpacking district, known in the 1800 and 1900's as "The Yards," surely contributed to a culture of meat-lovers in the city. This picnic honors the strong history, as we serve a dry rubbed 10 oz. flat iron steak and center cut 10 oz. pork chop on the bone complete with a mustard barbeque sauce. Accompanying your premium meats are a choice of delectable sides:
Apple waldorf salad with honey-lemon dressing
Baked potatoes with sour cream and butter
Grilled jumbo asparagus (in season)
Mini onion rolls
Vegetarian guests will be equally pleased when they find our grilled salmon filets with maitre d' butter.
"Back of The Yards" hearty picnic meal pairs perfectly with a full-bodied glass of wine like pinot noir.
4. Texas BBQ. Picnic BBQs are an American favorite known for meat grilling on-site, people gathered around chatting and kids playing in the lawn. At this picnic, we add some southern Texas flair with the following comfort food:
18-hour smoked brisket
Tequila lime chicken breast
Smoked sausage
Ranchero beans
Loaded baked potato salad
Chips and salsas
Corn muffins and butter
Assortment of barbeque sauces
A Texas BBQ is the perfect menu to enjoy with a Church Street Heavenly Helles Lager.
5. A Very Mediterranean Picnic. In the city known for deep-dish pizzas, turn some heads by offering a slightly healthier menu in a fresh, Mediterranean approach to your picnic. Our favorite collection features:
Chicken souvlaki skewers with lemon
Garlic and oregano
Grilled salmon filets drizzled with lemon tahini and parsley sauce
Rice pilaf
Greek country salad
Red pepper hummus and pita bread
Watermelon salad and feta cheese salad with mint and lime
Enjoy this Mediterranean Picnic with a Church Street Brimstone IPA.
After 25 years of committing to superior customer service and event catering, we continue to take great pride in serving each client with the highest core values. When you contact us, our team of professionals works to make your event as unique as its picnic menu.
For more Chicago picnic ideas, check out the following: