We expect signature holiday cocktails to be among the top mixology trends at 2015 Chicago holiday parties. In addition to providing guests with a warm and personal welcome, our Chicago catering team uses signature holiday cocktails to help your personality and event vision shine.
This post shows you how to choose a signature holiday cocktails that highlights the best of the season and your unique personality.
Reasons You Need a Signature Holiday Cocktail!
Cocktails serve many purposes beyond lifting guests' spirits as they enjoy the best local drinks and flavors. Our creative Chicago catering team loves crafting unique signature cocktails that go above and beyond their call of duty by providing these additional benefits.
Introduce a Holiday Party Theme
It's true that guests often go straight to the bar when they arrive at a party. So your signature cocktail can serve as a tasty introduction to your holiday party theme. To really play up a candy land theme, garnish a colorful cocktail with crushed and whole candy canes and decorate the bar with these winter treats.
Our Peppermint Martini made with vanilla vodka, Godiva white chocolate liquor and creme de menthe pairs well with a gingerbread land, candy land or winter wonderland holiday party theme. This refreshing drink artistically garnished with crushed peppermint brings plenty of cheer to your Chicago holiday party.
Showcase Your Personality
If your friends fondly know you as a chocoholic, then treat them to our S'mores Cocktail crafted with marshmallow vodka, Godiva chocolate liquor, creme de cacao, Hersey's chocolate syrup and crushed graham crackers on the rim. Continue to oblige your sweet tooth with our chocolate fudge brownies topped with crushed peppermint.
Complement Holiday Party Food
Guests are sure to sip on a drink while enjoying our scrumptious hor d'oeuvres and appetizers. As an added bonus, signature cocktails are likely to reduce the time guests have to wait at the bar. This improves the event flow and gives guests more freedom to socialize.
One of our favorite pairs is a Caramel Apple Martini made with apple vodka, apple pucker, butterscotch schnapps and caramel matched with Goat Cheese and Grape Truffles. But our vast holiday party menu is filled with endless options to match your taste and holiday party theme with personalized cocktails.
Highlight Holiday Party Color Schemes
Complement your holiday party colors and seasonal flavors with colorful drinks like our Cranberry Citrus Cocktail. Citrus vodka, triple sec, cranberry juice and a splash of lemon lime served in a martini glass is a classy way to treat guests to a good time filled with the holiday spirit.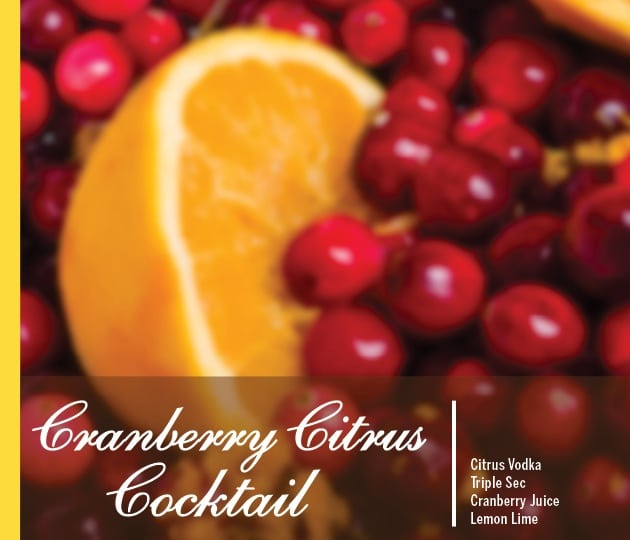 More than 25 years of Chicago catering experience means you can trust our team of culinary experts to deliver exceptional customer service and customized holiday party ideas all at an affordable rate.
To start planning a holiday party in Chicago, contact us online or give us a call at: (847) 593-2000.
More Articles You Might Like: