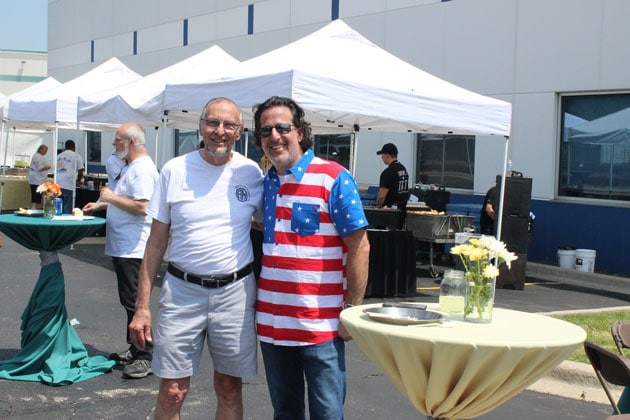 A gorgeous summer day was just what the American Metalcraft Inc team needed for their Annual Fourth of July Picnic. We were happy to create a beach-themed picnic for 175 honored guests outside their facility. Employees received and wore t-shirts with their company's logo and the tagline "Life's a Beach." It was quite a scene of relaxation and comradery.
Delicious picnic eats grilled to perfection
Our team assembled the perfect lineup for the employees. Grill masters cooked meats to order and placed them directly onto guests' plates.
The feast featured our famous 18-hour smoked brisket, which is cooked in a molasses-based BBQ sauce and sliced in thin strips. It also included the following mouthwatering options:
Freshly grilled boneless chicken breasts served as an entree or sandwich
Black angus pure beef and vegan burgers with all the fixings
Angus beef hot dogs
Molasses baked beans
American potato salad
Slices of watermelon
A selection of cookies and cheesecake for dessert
And what's a hot day without fresh lemonade. Our team made sure to have plenty of lemonade and cold beverages on hand.
A day full of fun and competition
Guests spent the afternoon enjoying each other's company in the sun. They let their gamer flags fly with the Speed Pitch and Grand Slam Batting Cage that were set up for them. They also teamed up for a hearty game of basketball.
This day marked another successful annual picnic! We were happy to be a part of this festive celebration for a group of outstanding employees.
Does this get you in the mood for a themed picnic for your next upcoming business event? We'd love to hear all about it!
More Articles You Might Enjoy: