Tasty Catering has provided quality professional corporate catering to the Naperville business community for more than 25 years. The silicon prairie of Chicago's west suburbs trusts us more than any caterer to deliver delicious on-site and drop-off catering for hungry business leaders, entrepreneurs and employees.
A Stress-Free Process for Naperville Office Catering Excellence
Tasty Catering's friendly and knowledgeable sales team helps with planning your entire corporate breakfast, lunch or dinner service from start to finish. For any event in the Dupage area, we'll work to determine your needs and comb over every detail. We'll bring all the scrumptious cuisine and supplies you could need or want, including napkins, utensils, linens, serving trays and more.
Let's Plan Your Corporate Event
An Exceptional Corporate Catering Menu
Hot or cold breakfasts, boxed lunches, savory dinners and monthly specials—Tasty Catering's experienced culinary staff can arrange the perfect corporate menu for your next luncheon or office party. Our range of vegetarian and vegan options means we can also meet any set of culinary preferences or restrictions. Our corporate catering menu is healthy, hearty and friendly to the core!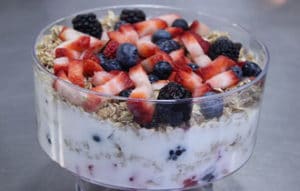 Giving Special Events a Special Treatment
Tasty Catering values quality and consideration in bringing amazing catering services to your Naperville special event. For events such as on-site grilled picnics, cocktail receptions and plated dinners, we can staff the occasion with our team of expert chefs and knowledgeable bartenders. We offer special rental options for items like china, linens, tables and chairs. Our professional servers are always ready to serve, clean, and answer any questions. Check out our picnic and special event menus.
Any Event, Any Size
Naperville is home to some fantastic companies and top-quality employers, including Alcatel-Lucent, Tellabs and more. With such a vibrant business and entrepreneurial scene, you need a catering service to match your energy, scope and passion. With our corporate drop-off catering services, our crew of professional drivers delivers your catering order right to your office door in a courteous and timely manner. We can cater for any size meeting, training session, board meeting, office party or other special event (including employee recognition, anniversaries, birthdays, milestones and more)!
Any Venue in Naperville
We've catered at such noteworthy spots as the Dupage County Forest Preserve District, Danada House, and Noah's of Naperville. Wherever you may be in and around Dupage County, Tasty Catering will meet you on-site or on location to satisfy your corporate or office catering needs.