Tasty Catering's Q4 Event Highlight
End of the year parties can take on a variety of themes, menus, venues and activities.  While Tasty Catering normally waits until after the busy holiday season to host a holiday party, we actually scheduled 2013's party for this month—January of 2014—so we named it an "end-of-the-year party" instead.
As with most of our company parties (we celebrate at least once per quarter), we hosted the 2013 end-of-the-year company event in our own facility.  As most people would expect, we began the party with a delicious dinner cooked by our COO, Larry Walter, and Head Chef Alfredo.
On the menu was a variety of dishes, including lemon pepper chicken, corn bread-crusted cod, baked cheese ravioli al forno, red skin roasted potatoes, orzo and rice pilaf, sautéed zucchini with fresh dill, and chickpea and couscous salad.
The food was so good that some of our employees forwent the seconds and took two plates from the very beginning.
After dinner, the entire crew participated in a short activity before sitting down to a presentation by the leaders. That presentation was projected right onto the white walls of our own kitchen.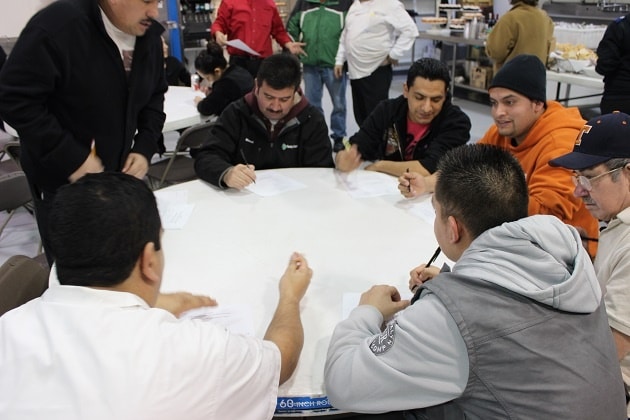 The presentation reflected Tasty Catering's 2013 accomplishments, honors and statistics.  It also revealed the final goals and numbers for our Great Game of Business (or GGOB). Tasty Catering has participated in the GGOB for the past several years.  In fact, one of our owners, Kevin Walter, is a GGOB Coach.  The staff watched and waited anxiously throughout the presentation, because at the end of the meeting, everyone found out our final numbers compared to our goals—indication as to what the end-of-the-year bonuses would be according to our GGOB games.
The staff wasn't surprised to learn that we had met—and surpassed—our GGOB goals, although they certainly were excited about our successes and to get their bonuses!
In the end, as per usual, the entire team helped clean up the kitchens before heading home with full stomachs and bonus checks.  In a few months, the entire company will sit down to another party to celebrate 2014's first quarter—it's a tradition to which the entire company looks forward all year.
Tasty Catering is a huge believer in frequent employee appreciation events, no matter how big or small, which is why we make sure to host four company-wide after-hour events each year, plus one special luncheon per month recognizing all of the employees who's work anniversary falls during that month.
For more employee or customer appreciation events and ideas, you might enjoy these trending posts: