Each year, American Metalcraft Inc. treats its employees to a July picnic showcasing its quality catering products and kitchenware. After meeting the hardworking employees at last year's picnic, we were beyond excited to return to service them again this year. On Wednesday, July 6, 150 guests enjoyed the most scrumptious picnic food at a classic county fair employee appreciation luncheon.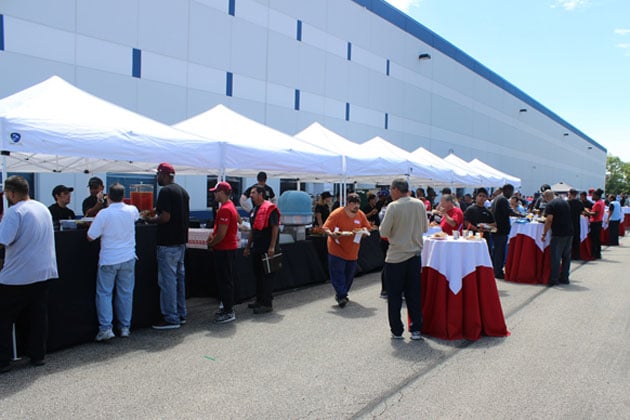 From 11 am to 1 pm, employees bantered amid fun picnic activities and festive food stations while our creative event planners and friendly staff helped American Metalcraft showcase their products and treat employees.
Carnival Fun and Classic BBQ Reward Hardworking Employees
Traditional BBQ Picnic Food Served with Smiles
As employees began to relax and mingle at the Franklin Park facility, they got ready to chow down on the best Chicago BBQ catering. Friendly staff greeted them at each of the two entree stations that served up these delicious picnic foods:
18-hour BBQ beef brisket: Sliced, slow-cooked brisket of beef
Pulled pork
Smoked sausage
Smoked chicken: Beer can-style smoked chicken quarters
With stainless steel Evolution rectangular chafers to keep the brisket and chicken warm, monitoring food temperature to serve our tender BBQ food was easier than ever. And so too was setting up attractive displays of our scrumptious pulled pork sandwiches. Acacia melamine serving boards have all the beauty of wood with the convenience of easy-to-clean melamine. We absolutely fell in love with this material that puts an upscale twist on a traditional picnic look.
Classic Picnic Sides
When active minds at American Metalcraft Inc. have a vision, they tinker with every detail until it perfectly comes to life. So they utilized the ability to "pick your own picnic" to the fullest. We loved helping them custom design stations from our array of popular Chicago catering menu items. Their final selection of scrumptious county fair-themed sides paired with fine American Metalcraft products included:
To make sure food presentations remained impeccable and service top-notch, the sides station was also staffed with our meticulous professionals.
Dazzling Dessert Station
Our talented event planners wanted to show how a dessert as simple as fruit or cookies can make a big statement when displayed using American Metalcraft products. Cookies got a whimsical display using 16-inch melamine paper plates while fruit kabobs were artistically placed on round acacia melamine serving boards.


Fun Snacks for All
From cooking to clean-up, American Metalcraft products make anything with food easier and more fun. Who doesn't love when the food they serve looks—and might even taste—better without any extra effort? That gives you extra time to play, even with your food. How did we pass on this value to guests? We set up a fun food station with:
Popcorn machine
Sno cones
Cotton candy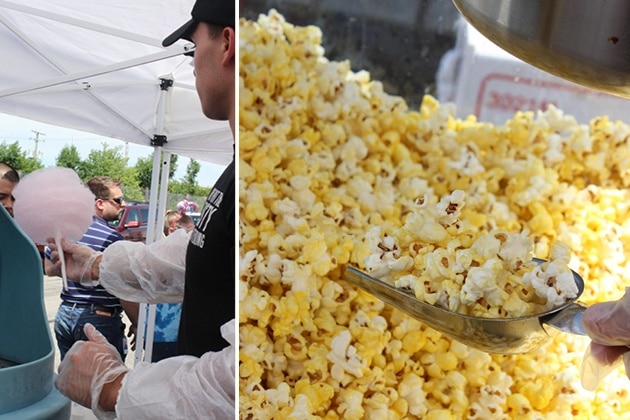 Refreshing Summer Drinks
Proving that there are always unique ways to take the ordinary up a notch, we provided a selection of flavorful drinks and mocktails. Nobody was missing an alcoholic bar when they had a sip of these summer drinks:
Blueberry mojito mocktail
Mock sangria
Pink raspberry lemonade
The drink station may be where American Metalcraft's variety of products was most evident. From the antique copper bar collection on display to the clear drink cans and mason jars, there is a quality product to match any drink trend or event theme. And while guests fell in love with our tasty drinks and creative cups like the mint julep, our staff reveled in the chance to use the elegant Evolution juice dispenser. Featuring an offset ice reservoir, we were able to fill and refill faster than ever!
Of course, for those guests craving a simple splash of refreshing water, we had that readily available as well.
Playful Picnic Activities
The five food stations serving up classic BBQ picnic foods and fun treats fit in perfectly with the entertainment at this classic county fair-themed employee appreciation event. To boost employee morale, engagement and camaraderie, we set up this array of fun picnic activities:
Dunk tank: Employees celebrate a small victory when they nail the target and watch one good sport go splashing into the water.
Open air photo booth: Touch screens are the latest event technology to find its way into photo booths. Groups and individuals had fun adding their personal touch and style to photos with black and white, borders/frames and collage options. And because this premier photo booth comes equipped with QR codes and is social media-ready, they didn't have to wait long at all to get their hands on the end result.
Break a plate: With traditional picnic foods on hand, we had to have a classic picnic game too. Shelves hold special plates for guests to smash so victory is theirs.
Milk bottle knockdown: Step up, focus and take on the challenge to nail wooden milk bottles.
Carnival fronts: Bright striped carnival fronts and marching valances remind guests of classic carnival midways as guests of all ages partake in games of skill.
If you would like our friendly Chicago catering team to bring the highest quality food and service to your next company picnic, contact us online or give us a call at (847) 593-2000. 
More Articles You Might Like: