Our Chicago catering team was honored to serve at an annual award ceremony for a local journalism organization. The awards and scholarships go to exemplary journalists, and we couldn't be happier to support such an honorable cause.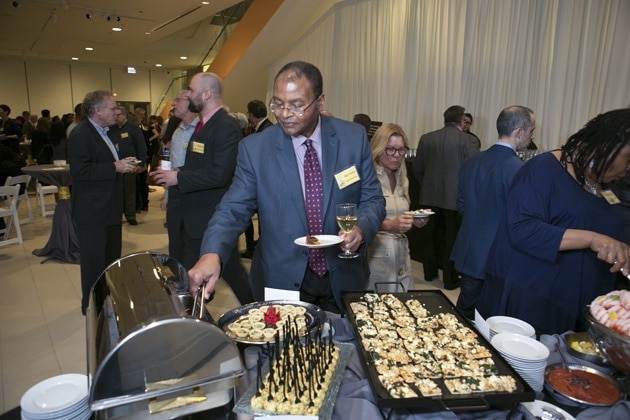 Exceptional Chicago Catering for an Incredibly Unique Event
This ceremony has been recognizing Chicago professionals for over twenty years, and they reward outstanding people with a night of incredible food.
Check out how delicious small bites and tasty drinks helped create an unforgettable experience for 200 guests at the National Hellenic Museum.
Elegant Opening Drinks and Passed Hors D'oeuvres
After registering and coat check—and anytime they wanted a drink—guests visited the bar in the Great Hall, where they found an assortment of domestic beers and red and white wine.
For a tasty small bite to go with their drink of choice, guests were offered passed hors d'oeuvres like:
Honey whipped goat cheese spoons made with prosciutto, fresh thyme and poached pears
Zucchini parcels filled with goat cheese and Kalamata olive tapenade
Feta and sun-dried tomato phyllo topped with tzatziki sauce
A Touching Awards Ceremony
At 6 pm, guests settled in for the awards ceremony and speakers. Chosen by a committee of prior winners, the class of 2016 recipients were truly exceptional.
In addition to the inspiring speeches, guests enjoyed learning about promising journalists and special philanthropists. Live music, excited conversation and applause filled the hall all night.
Celebrating with Delicious Appetizers
Following the awards ceremony, our catering team offered an array of delectable stationary appetizers:
Lemon oregano chicken flatbread: Grilled marinated chicken breasts sliced and served with fresh lemon, Greek oregano, roasted garlic, caramelized onion, sautéed spinach, imported feta cheese, and flat parsley
Pistachio goat cheese truffles
Shrimp cocktails: Iced jumbo shrimp, cocktail sauce, lemons, horseradish and tabasco
Baba gnoush tarts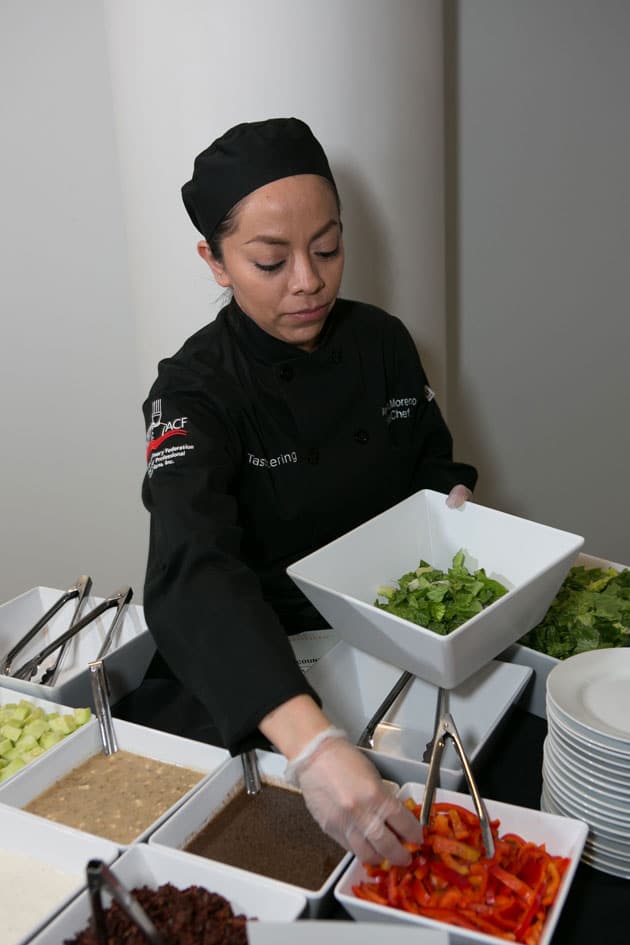 We set up a Mediterranean salad station that let guests create their own masterpieces. A chef tossed salad greens with guests' choice of dressings, bell peppers, cucumbers, sun dried tomatoes, red onions, pitted kalamata olives and feta.
Winding Down with Delightful Desserts
At 7:30 pm, few guests could resist the sweet treats that rolled into the Great Hall. They chatted over Hawaiian Kona coffee while savoring these desserts:
Assorted mini tarts: Key lime, lemon and blueberry, chocolate caramel and seasonal fruit tarts
Cake bites: Miniature cake slices dipped in white and chocolate ganache
Miniature tiramisu mousse cups
Rice pudding
If you would like our friendly Chicago catering team to bring the highest quality food and service to your next big event, contact us online or give us a call at (847) 593-2000.
More Articles You Might Like: