With so many top holiday party venues in Chicago, it can be hard to narrow down your options. Our online venue locator tool is available to help you find and compare spaces that match your needs, and, of course, we will be there to help bring your vision to life!
Here we've shared our knowledge of five of the best Chicago holiday party venues sure to shine bright this season.
Top 5 Chicago Holiday Party Venues

As a part of the Forest Preserve District of Dupage County, this historical property is absolutely stunning! The two-story house dates back to 1939, and it features 19 rooms with beautiful surrounding gardens. The ground floor rooms and enclosed porches are perfectly suited to cocktail parties, but the new climate-controlled atrium with floor-to-ceiling windows is quite possibly the most prized room in the Danada House.
Because the Danada House is operated by a not-for-profit organization, it is an ideal location for corporate holiday parties that will benefit local charities. The Friends of Danada staff and volunteers are always willing to lend a helping hand which means guests can relax and enjoy the surrounding beauty and history of the space!
If you are falling in love with the sounds of the Danada House, check these quick facts to see if it also matches your Chicago holiday party needs:
Seating capacity: 250 in the atrium and 90 on the main level.
Location: Wheaton, part of the West Suburbs.
Rates: If you are on a tight holiday party budget, you may want to take advantage of the lower weekday rates.
This versatile event space can transform any party into a magical holiday memory. Across the Main Room, Urban Garden and Rooftop Deck, you will explore more than 9,000 square-feet of flexible floor plan.
The Ignite Glass Studio is sure to spark the imagination of guests as they look out upon fruit trees and the dramatic Chicago skyline. If you choose this spectacular venue dedicated to artistic transformations, you will want to work with a creative Chicago catering company to craft a custom holiday party menu. This will ensure the artistic flair seen in glass blowing flows throughout your holiday party food and presentation.
Ignite Glass Studio's grand location in downtown Chicago can host up to 450 guests, and these unique holiday cocktails will get the party started!
S'mores cocktail: marshmallow vodka, Godiva chocolate liquor, creme de cacao, Hersey's chocolate syrup and crushed graham crackers on the rim
Peppermint martini: vanilla vodka, Godiva white chocolate liquor, creme de menthe and peppermint crushed on the rim
Caramel apple martini: apple vodka, apple pucker, butterscotch schnapps and caramel
The affordable pricing of NOAH's in both the North and West Suburbs will help you stay on budget even when planning a party for up to 550 guests. Trendy new holiday party menu items and stylish decorations will look fantastic at either the Naperville or Lincolnshire location.
NOAH'S contemporary, sleek architecture and state-of-the-art features let you expand your options for holiday party decorations. The unique ceiling decor system will let you take modern holiday party décor up a notch.
For an intimate and serene holiday party experience, invite up to 200 guests to a seated dinner under a 35-foot vaulted ceiling with lake and forest views. A stone double-sided fireplace and natural wood create a warm atmosphere that encourage guests to relax and mingle while enjoying some signature holiday cocktails at this top West Suburbs location.
Treat guests to some of our elegant dishes before they start swinging on the dance floor.
Goat cheese and grape truffles, red grape encased in goat cheese then dusted with assorted savory crusts
Endive and pear salad, Belgian endive, spinach, pear, red onion and almonds served with a champagne vinaigrette
Roasted pork loin served with roasted apples and caraway ginger snap gravy
If you are considering a white winter wonderland holiday party theme, then one look at this working photography studio filled with natural light will finalize your decision. White paper lantern lights hanging from the family owned 4,000 square foot indoor space are only the start to your white winter wonderland décor. Add in some personal touches, and you will be ready to welcome up to 200 guests to an idyllic holiday party in Chicago.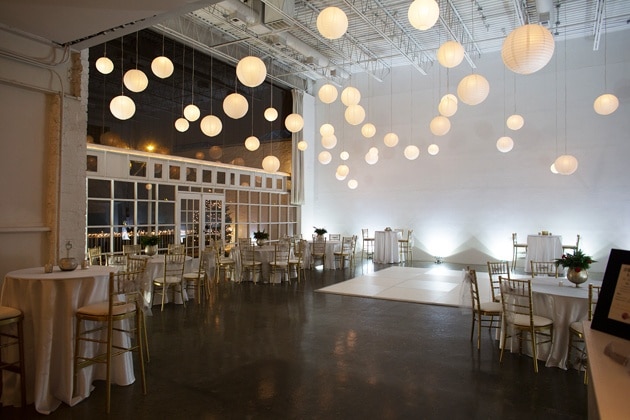 Our team looks forward to bringing delicious and artistic holiday party food to this flexible venue located right in the city. We suggest keeping the beautiful white decorations and attire in mind when selecting food and beverages. Some of our favorite Chicago holiday party menu ideas suited to a winter wonderland theme are:
Winter salad, torn romaine lettuce, feta cheese, white beans, roasted red peppers and pepperoncini topped with arugula and served with red wine vinaigrette
Cod with fresh citrus segments and lime-ginger beurre blanc
Spiced ginger cookies with royal icing
The best Chicago catering companies will have extensive experience coordinating with a wide range of venues to ensure your event flows seamlessly. With more than 25 years of catering experience, you can trust our team of culinary experts to deliver flawless service at an affordable rate any time of the year.
For more help planning a holiday party in Chicago, contact us online or give us a call at: (847) 593-2000.
More Articles You Might Like: